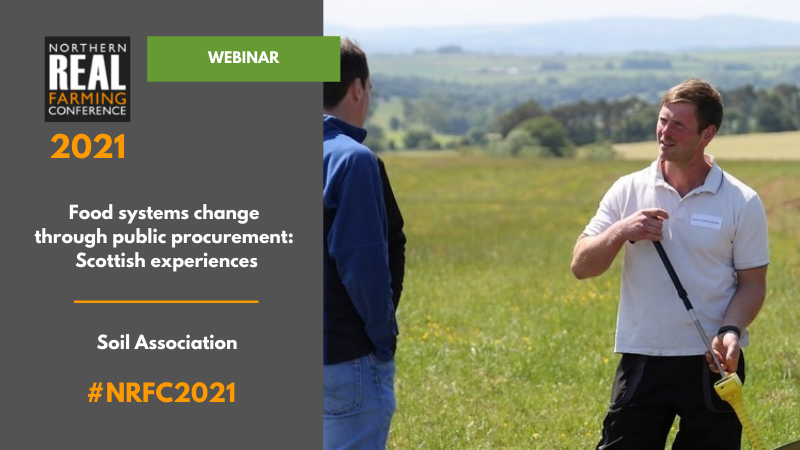 Food systems change through public procurement: Scottish experiences
Hosted by the Soil Association
There is an urgent need to transform our food systems, and public procurement can be a crucial tool.
Every year, the public sector in Scotland spends almost £150 million on food and drink. Channelling public money back into local communities via local farmers and food producers can provide a multitude of benefits, not to mention improve the quality of the food on school children's plates.
Food for Life Scotland is working hard to drive this change in Scottish schools by connecting farmers, producers, wholesalers and local authorities to provide healthy, local, ethical food to children across the country.
Join Lucie Wardle (Supply Chain Officer at Food for Life Scotland) along with Bryce Cunningham from Mossgiel dairy farm in Ayrshire (where his organic, pasture-fed cows produce milk which he pasteurises on-site and supplies to schools in reusable bottles) to learn more about their experiences in making it happen; and hear about the opportunities and challenges public procurement brings to food systems change on the ground.
Moderated by Ana Allamand, the speakers will share their stories (Mossgiel farm currently supplies organic milk to East Ayrshire schools via a plastic free supply chain), highlighting practical ways to make it happen; and helping to identify future opportunities on the horizon.
Speakers/hosts include:
Ana Allamand
Lucie Wardle – Lucy, Supply Chain Officer at Food for Life Scotland works with local authorities, suppliers, and producers in Scotland to get more local food into school meals. Championing Scottish suppliers means that public money can be used for public good, supporting local businesses and ensuring that top quality Scottish food is enjoyed in Scottish school meals.
Bryce Cunningham – Bryce of Mossgiel Organic Dairy, is a third-generation dairy farmer. Bryce's passion for the environment and high-quality dairy products has seen him pivot the business, converting to organic, and working with a plastic free supply chain, supplying directly to local businesses and most recently, East Ayrshire council for their school meals.