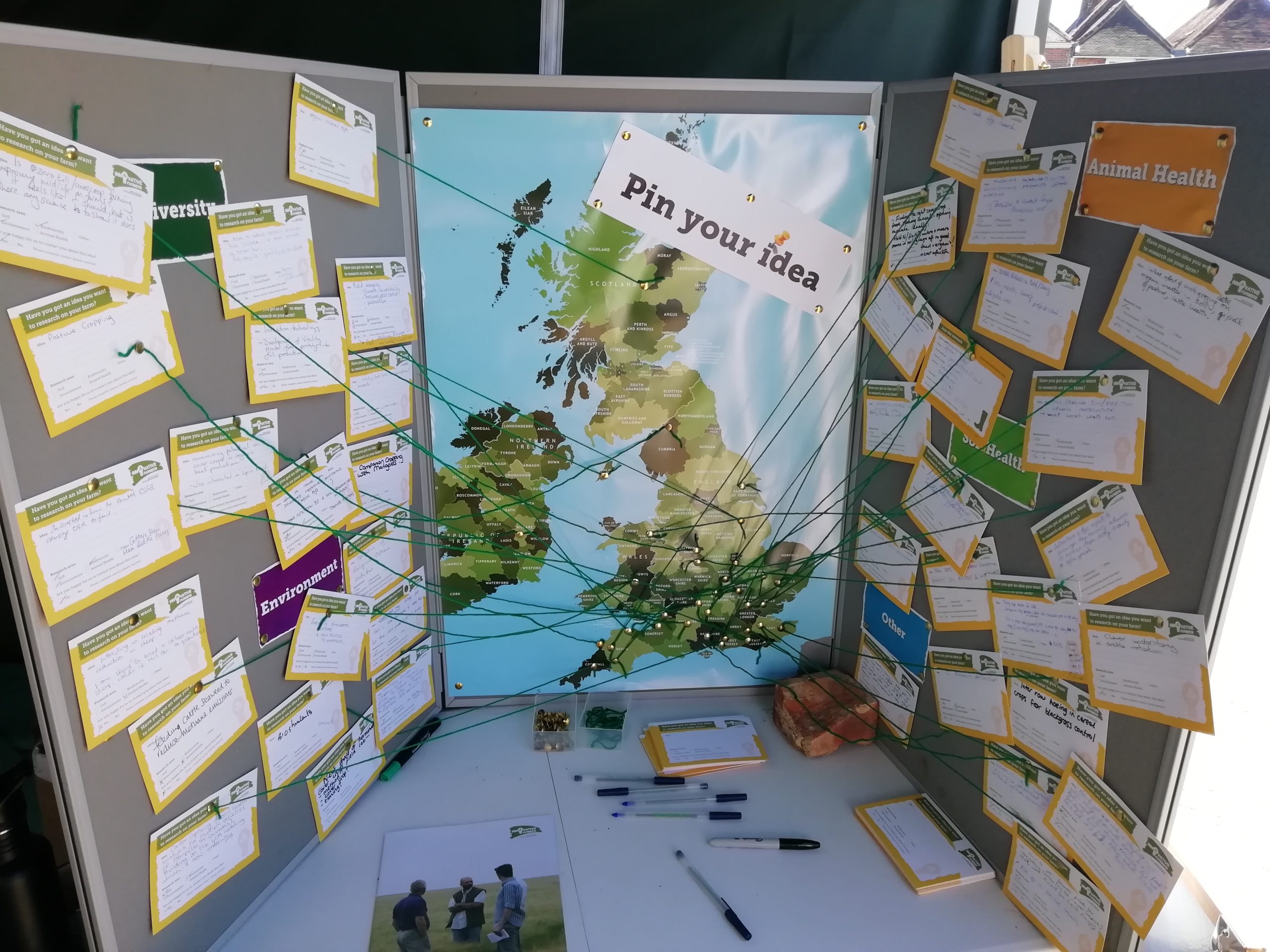 Crowdsourcing ideas for farmer led research
Hosted by the Innovative Farmers network.
Peer-to-peer learning is key to collaborating on solutions to agricultural problems. Join Innovative Farmers for an interactive session to crowdsource ideas for agricultural research in the north with farmers setting the priorities. We had farmers fresh out of their field labs to soundboard ideas with, and a smattering of researchers to amplify the learning. Panellists explained their experiences in field labs before we handed over to the audience to workshop ideas for future research. Everyone who joined this session should have left with a good idea on how to set up their own on-farm research project.
Speakers/hosts:
Kate Pressland is the programme manager for Innovative Farmers. She oversees the programme's network of on-farm trials ('field labs'). Field labs support farmers interested in researching agroecological solutions to practical problems, by teaming them up with researchers to work directly on the issues the farmers face, on their own land, developing their own ideas. Kate is responsible for engaging with the programme's stakeholders including farmers, producers, advisers, scientists, policy makers and industry bodies to develop farmer-led research as a key practice for improving agricultural sustainability and resilience. She manages its small grants scheme, which helps boost the ability of the field labs to understand if solutions investigated are effective. Kate also sits on the senior management team of Scotland's own farmer-centric research programme Rural Innovation Support Service (RISS). Kate has a PhD in agricultural ecology and previously worked for 9 years in land management with farmers across the south-west in the conservation sector.
Despina Berdeni is a soil and crop research scientist at ADAS. She is also a researcher and coordinator for the field lab investigating management practices to increase deep burrowing earthworm numbers. At ADAS, her research has focused upon the interaction between soil biological communities, soil health and plant physiology within sustainable agroecosystems. She previously worked as a research associate in plant-soil interactions at the University of Sheffield after completing a PhD in 2017, where she used molecular ecological methods to investigate the interaction between soil microbial communities, soil management and crop performance.
Judith Conroy is a researcher for the Innovative Farmers field lab investigating alternatives to plastic-based mulch. With a background in organic horticulture, Judith is a researcher at Coventry University's Centre for Agroecology, Water and Resilience. Her research focuses on organic and other sustainable growing systems with a particular interest in the value of these spaces for pollinating insects. Judith's primary role is Project Manager of Organic-PLUS, an EU Horizon 2020 project comprising 25 partner institutions, investigating alternatives to contentious inputs in organic agriculture across Europe. Judith is also active in the project's SOIL workpackage, trialling replacements and phase-out pathways for peat, plastic mulch and animal manure.
Richard Copley is a tree surgeon and cattle farmer based in Lincolnshire. He became interested in biochar as a way of utilising the waste coming out of his tree surgery business, Manor Farm Tree Services. In 2019 he was the host farmer in an Innovative Farmers' field lab with the Centre for Agroecology, Water and Resilience to test the benefits of feeding biochar to livestock. The research went on to show that the cattle that were fed biochar excreted less nitrate in their manure than those that were not fed biochar. Locking away a portion of the nitrogen that is excreted from cattle means less will leach into the environment when their slurry is used as a fertiliser in the field. Richard was also interested in how feeding biochar to cattle has an additional climate benefit as it sequesters the carbon from his offcuts when the manure is integrated into the ground.