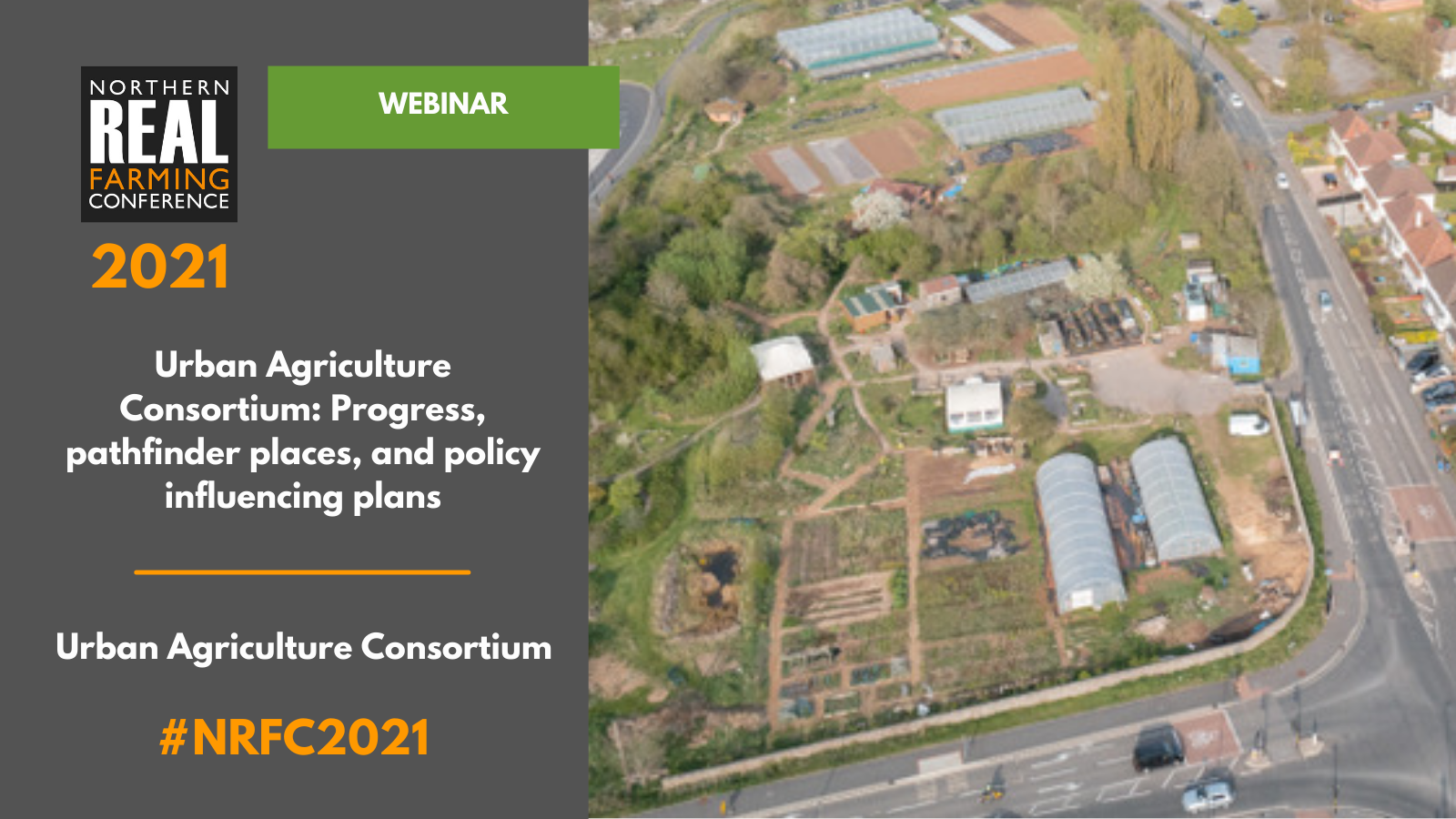 Urban Agriculture Consortium: progress, prognosis, COP26 feedback, policy influencing with a focus on Sheffield
Hosted by the Urban Agriculture Consortium
The Urban Agriculture Consortium (launched summer 2020) has rapidly established itself as an innovative part of the emerging regenerative agroecology ecosystem, with an initial focus on 5 northern "pathfinder" cities, as well as emerging partnerships & collaborations across the UK.   
We'll report back on progress with a particular focus on:
Building and enhancing the Urban Agriculture Consortium network

Progress with the northern pathfinder places and the northern farmstart cluster, UAC's typology and evaluation. 

Feedback and calls to action after COP26.

Focus on Sheffield – a dialogue with Cllr Alison Teal and Gareth Roberts on how progress has accelerated through policy interaction, and emerging proposals for a city- region urban agriculture task force.

PINGs – Policy Influencing Network Groups – future plans.

Outline of plans for 2022
We hope this will inspire further pathfinder clusters in other parts of England and Wales in 2022.
People will gain an insight into the rapidly establishing Urban Agriculture Consortium, growing momentum behind urban farmstarts and collaborations between local, regional and national partners on how to influence policy makers.
Speakers/hosts include:
Jeremy Isles – Jeremy instigated the Urban Agriculture Consortium in response to concerns over rising food insecurity and climate emergency. After extensive consultations during 2017-19, the UAC was launched in summer of 2020.  Arriving in the midst of Covid & Brexit fall-out, the UAC message of re-localisation of regenerative agroecology has struck a chord and the UAC has rapidly established a place in the evolving ecosystem of partners advocating radical & bold food system change.
This work is built on Jeremy's long-standing work as pioneering environmental activist, "doing something useful" as a cycle campaigner at Friends of the Earth in 1983, as Director of the London Wildlife Trust (1984-90), in Bangladesh and Eritrea with VSO (1991-93),  as Regional Manager for Sustrans (1994-2000), and as CEO at the Federation of City Farms and Community Gardens (2000-2016).  Many of the projects and partnerships he initiated and worked on during this period have had a significant and long lasting impact including the National Cycle Network, Allotments Regeneration Initiative, Local Food Consortium, Community Land Advisory Service, and Growing Together. 
This long track record has led to his involvement in an innovative oral history of the green movement – funding yet to be confirmed.
Other interests include nurturing an allotment, singing, guitars, cycling, painting and sailing.
Maddy Longhurst – Maddy has always followed her instincts to work on initiatives and ideas that lie in the fertile margins and serve future generations. Recently this has involved the protection of land and soils, community-led thermal imaging of cold homes, Ecosystem Restoration Design, creating regenerative Tiny House Settlements, Sociocracy and Gleaning training for communities. Maddy worked on Phase 1 of the urban agriculture project in 2019 and is currently coordinating the Urban Agriculture Consortium with Jeremy Iles.
Alison Teal – Alison trained as a Clinical Psychologist in Australia and worked as a Consultant Psychologist and Family Therapist for many years. She returned to the UK in 2013 and settled in Sheffield in February 2014 in Nether Edge & Sharrow. With her daughters close to adulthood she decided it was time to get involved in politics and lobby all levels of government to take action on the Climate and Ecological Crisis. She is passionate about nature, social justice, women's equality, and democracy.
Alison says, "The Green Party is the only party which looks at the challenges we face locally, nationally and globally in a systemic way. We consider how the decisions we make today will affect future generations."
Alison became a founding core member of Save Nether Edge Trees campaign group in 2015 which led to several years of engaging in non-violent direct action to prevent the felling of healthy mature trees. She was arrested for trying to protect trees and also taken to the High Court by Sheffield City Council who applied for an order to send her to prison. However, the judge dismissed the case.
Duncan Williamson – Duncan is a recognised environment, sustainable consumption and food systems expert. He is the founder and director of Nourishing Food Systems and currently works with Action Against Hunger developing their strategies on climate change and the emerging food crisis. He is working with WWF, Chatham House and is on the steering group for the Fork to Farm COP26 project, overseen by Nourish Scotland. He has been working in the environment and related fields for over 20 years, with the last 13 focused on food systems and has an MSC in Sustainable Environmental Management focusing on land use. He has led teams and projects at Compassion in World Farming (CIWF) and WWF UK. He is on the advisory body for the DiverIMPACTS project, which focuses on crop diversification through crop rotation and the food systems atlas. Also, setting up a community farm in his village.
Gareth Roberts – Gareth is a founder member and co-director of Regather, and coordinator of ShefFood – Sheffield's Food Partnership. Gareth is passionate about cooperation, and has worked collaboratively with people from all walks of life for over 20 years. Since 2015 Gareth has led strategic developments around Community Economic Development and Sustainable Food Systems in Sheffield, ensuring Regather and ShefFood lead on innovative economic and social change. His mission is a food system where money is retained in the local economy, land is more productive, food is better quality, health is improved and people have better awareness of and involvement with how the food system, from local to global, can be changed for the better.